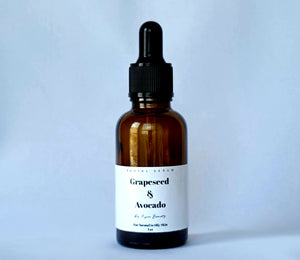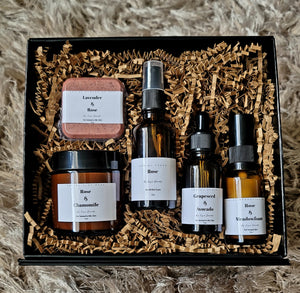 Grapeseed and Avocado Facial Serum
Regular price
Sale price
$18.00
---
Skin Care Treatment: Face Serum
Ideal For These Skin Types: Normal, Combination, Oily, Dry, Sensitive, Mature, Acne Prone
Facial Serums are a step often missed in the facial skin care routine. It is important to apply a serum after a toner but before a moisturizer. Espe Beauty's Grapeseed and Avocado Facial Serum is formulated to give you the premium facial care treatment you have been looking for. Be sure to check out the other products in our facial care line to complete your Espe Beauty facial care routine. A good facial care routine includes a cleanser, mask, toner, serum, and moisturizer. Box sets including all items needed for a premium facial care routine are also available.

Key Ingredients:
Grapeseed:  The linoleic acid in this oil helps strengthen the skin's barrier function which helps protects skin against aging. It helps in repairing blemishes and lighten under-eye circles.
Avocado Oil: Contains beta carotene, protein, lecithin, fatty acids, and vitamins A, D, and E which helps moisturize and protect your skin from damaging UV rays and increases collagen metabolism. Avocado oil also contains oleic acid which promotes collagen production that helps new skin grow.
Evening Primrose:  Improves hydration and elasticity, reduces wrinkles and fine lines, soothes dry and irritated skin, regulates sebum production, and helps treat and prevent breakouts.
Carrot Seed: A winner for anti-aging. The vitamin A in carrots flush out excessive oil and keeps the skin fresh and free of toxins. The vitamin C carrot seed supplies is collagen-boosting while the vitamin E acts as a moisturizer. It helps smooth lines and repair sun damage, scars, and other skin trauma.
Directions:
Place a few drops on your fingertips and dab around your face and neck. Smooth the dabs on your face with a gentle upward and outward motion. Pat gently around the eye area, careful not to get in your eyes. Follow with your Espe Beauty Facial Moisturizer.
Ingredients:
Grapeseed Oil, Apricot Kernal Oil, Olive Oil, Hazelnut Oil, Borage Seed Oil, Jojoba Oil, Avocado Oil, Vitamin E, Evening Primrose, Palmarosa Essential Oil, Carrot Seed Essential Oil, Rosewood Essential Oil, Geranium Essential Oil, Jasmine Essential Oil.
1 oz Bottle
Espe Beauty's Facial Care Line is natural, vegan, paraben-free, gluten-free, cruelty free, and phthalate-free
**Please be sure to test any new skin care product on a small area of the skin before use. If irritation occurs, please discontinue use.