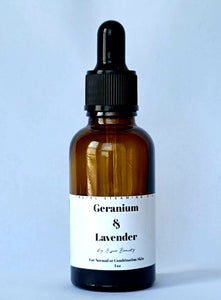 Geranium and Lavender Facial Steaming Oil
Regular price
Sale price
$15.00
---
Skin Care Treatment: Facial Steaming Oil
Ideal For These Skin Types: Normal, Combination
Facial steaming helps open pores and loosens buildup on the face. Steaming increases circulation and allows for beneficial ingredients to better penetrate the skin. They also offer an amazing aromatherapy experience. Facial steamers should be used after applying your toner but before your serum or mask. Espe Beauty Facial Steaming Oils are a very beneficial step before using our masks. Espe Beauty's Geranium and Lavender Facial Steaming Oil is formulated to give you the premium facial care treatment you have been looking for. Be sure to check out the other products in our facial care line to complete your Espe Beauty facial care routine. A good facial care routine includes a cleanser, steaming oil, mask, toner, serum, and moisturizer. Box sets including all items needed for a premium facial care routine are also available.

Key Ingredients:
Geranium Essential Oil:  Effectively eliminates dead cells, tightens the skin, promotes the regeneration of new skin, and diminishes signs of aging.
Lavender Essential Oil: Used to help calm, soothe, and moisturize skin. It reduces redness, blotchy patches, and acne scarring. It is a natural antibacterial which kills acne-causing bacteria.
Directions:
Carefully place 2 quarts of boiling water in a non-slip bowl and place where you can sit comfortably. Place 1 tsp (5ml) of oil over the surface of the water. Place a towel over your head and bowl creating a tent. Make sure you are at least 12 inches from the water. Keep your eyes closed and relax for 5 to 10 minutes. Follow with your Espe Beauty Facial Mask or Toner before moving to your Espe Beauty Serum. Use no more than 1 to 2 times per week.
Ingredients:
Sweet Almond Oil, Geranium Essential Oil, Lavender Essential Oil, Ylang Ylang Essential Oil
1 oz Bottle
Espe Beauty's Facial Care Line is natural, vegan, paraben-free, gluten-free, cruelty free, and phthalate-free
**Please be sure to test any new skin care product on a small area of the skin before use. If irritation occurs, please discontinue use.