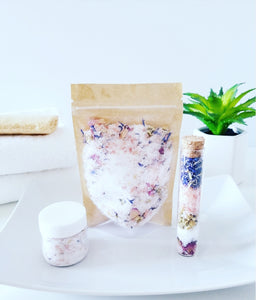 Calm Down Bath Salt Soak
Regular price
Sale price
$12.00
---
Espe Beauty Bath Salt Collection was developed to help your skin heal and rejuvenate your mind and body. We use natural salts, flowers, and essential oils to create a bath time experience you can see, smell, and feel. Not all salts are the same. Each salt has its own benefits from soothing skin to detoxing the body. Be sure to see all of our blends to fit your mood and body needs.
CALM DOWN BATH SALTS
Epsom Salt: Otherwise known as magnesium sulfate. Anecdotal evidence suggest Epsom salt can be used to promote tired muscles and relaxation.
Pink Himalayan Sea Salt: Contain over 84 different minerals. which helps feed the skin and body helping with healing. These salts are protected from pollution and impurities since their formation over 250 million years ago. Purer than any sea salt created today, they are great for detoxing, helping with healing, and skin healing. The more toxins you have to lose, the more drained you can initially expect to feel afterwards.
Baking Soda: Baking Soda, also known as sodium bircarbonate, helps dissolve oils on your skin and makes a great addition to a hot bath. It also helps absorb some of the essential oils to keep your bath salts smelling great. Baking soda reduces skin irritation, itching, and also provides detoxifying benefits.
Chamomile Essential Oil:  Promoted as a calming oil. It is also thought to reduce swelling and have anti-fungal, anti-bacterial, and anti-viral properties.
Grapefruit Essential Oil: Known to reduce stress, stimulate circulation, increase energy, enhance mood, and improve digestion.
Palmarosa Essential Oil: Skin balancing oil known for its hydrating properties, and can assist in preventing inflammation and quelling dehydration. It also balances the sebum or oil production of your skin, aids in the healing of cuts and bruises, and helps remedy acne breakouts.
Patchouli Essential Oil: Grounding, balancing, calming scent that provides numerous skin benefits. 
Ingredients:
Epsom Salt, Pink Himalayan Sea Salt, Baking Soda, Chamomile Essential Oil, Grapefruit Essential Oil, Palmarosa Essential Oil, Patchouli Essential Oil, Dried Chamomile Petals, Cornflower Petals, Pink Rose Petals