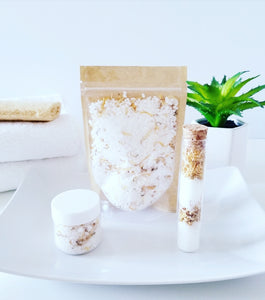 Brighter Days Bath Salt Soak
Regular price
Sale price
$12.00
---
Espe Beauty Bath Salt Collection was developed to help your skin heal and rejuvenate your mind and body. We use natural salts, flowers, and essential oils to create a bath time experience you can see, smell, and feel. Not all salts are the same. Each salt has its own benefits from soothing skin to detoxing the body. Be sure to see all of our blends to fit your mood and body needs.
BRIGHTER DAYS BATH SALTS
Featured Ingredients:
Epsom Salt: Otherwise known as magnesium sulfate. Anecdotal evidence suggest Epsom salt can be used to promote tired muscles and relaxation.
Dead Sea Salt: It's the unique mix of magnesium, calcium, sodium and potassium, pretty much everything needed for healthy skin. Anecdotal evidence suggest it helps treat all manner of reactive conditions from eczema to psoriasis. By helping to hydrate and normalize skin cells, it also stops the itch/scratch cycle. Plus, it's good to use for a few weeks whenever your skin needs extra hydration.
Baking Soda: Baking Soda, also known as sodium bircarbonate, helps dissolve oils on your skin and makes a great addition to a hot bath. It also helps absorb some of the essential oils to keep your bath salts smelling great. Baking soda reduces skin irritation, itching, and also provides detoxifying benefits.
Grapefruit Essential Oil: Known to reduce stress, stimulate circulation, increase energy, enhance mood, and improve digestion.
Sweet Orange Essential Oil:  Used in aromatherapy, Orange Essential Oil's pleasant scent has a cheerful and uplifting yet simultaneously relaxing, calming effect that helps reduce pulse rate. It can not only create a warm environment but can also stimulate the strength and resilience of the immune system and eliminate airborne bacteria.
Lemon Essential Oil: Refreshing, energizing and uplifting. Lemon essential oil can be attributed to its stimulating, calming, astringent, detoxifying, antiseptic, disinfectant and anti-fungal properties.
Bergamot Essential Oil: Bergamot Essential Oil is known to help reduce anxiety and stress and thereby alleviate symptoms of depression. The oil's α-Pinene and Limonene constituents make it uplifting, refreshing, and stimulating. Inhaling Bergamot Oil can also maintain metabolism by increasing the hormones and fluids that aid digestion and nutrient absorption. 

Ingredients:
Epsom Salt, Dead Sea Salt, Baking Soda, Grapefruit Essential Oil, Sweet Orange Essential Oil, Lemon Essential Oil, Bergamot Essential Oil, Dried Calendula