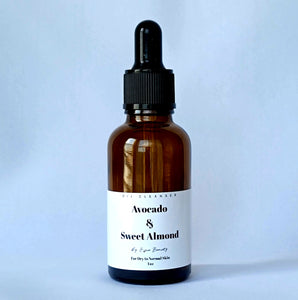 Avocado and Sweet Almond Oil Facial Oil Cleanser
Regular price
Sale price
$15.00
---
Skin Care Treatment: Facial Oil Cleanser
Ideal For These Skin Types: Normal, Combination, Dry, Sensitive, Mature
Espe Beauty's Oil Cleanser is a pre-cleansing treatment. It also works very well at gently removing makeup and eyelash extensions. Oil cleansers are used as a first step in a facial care routine. Espe Beauty's Avocado and Sweet Almond Oil Facial Oil Cleanser is formulated to give you the premium facial care treatment you have been looking for. Be sure to check out the other products in our face care line to complete your Espe Beauty facial care routine. A good facial care routine includes a cleanser, steaming oil, mask, toner, serum, and moisturizer. Box Sets including all items needed for a premium facial care routine are also available.

Key Ingredients:
Avocado Oil:  Contains beta carotene, protein, lecithin, fatty acids, and vitamins A, D, and E which helps moisturize and protect your skin from damaging UV rays and increases collagen metabolism. Avocado oil also contains oleic acid which promotes collagen production that helps new skin grow.
Sweet Almond Oil: Helps improve complexion and skin tone. It improves acne and helps reduce the appearance of damaged skin. Its skin loving properties help hydrate dry skin. 
Directions:
Drop oil on the tips of your fingers and apply to dry or lightly damp skin in a circular motion. Massage your face for up to 1 minute. Use a warm damp washcloth to gently wipe your face clean.
Ingredients:
Avocado Oil, Sweet Almond Oil, Argan Oil, Castor Oil, Oat Extract, Vitamin E Oil
1 oz Bottle
Espe Beauty's Facial Care Line is natural, vegan, paraben-free, gluten-free, cruelty free, and phthalate-free
**Please be sure to test any new skin care product on a small area of the skin before use. If irritation occurs, please discontinue use.